Vill tipsa om bloggen
The Blog Guidebook
som drivs av Sarah och Lyndsay.
Jag älskar den här sidan!
"The Blog Guidebook encompasses all bloggers, be they crafty, creative, cooks, bakers, teens, moms, dads, children in need, pet lovers, home-stylers, antiquers, flea marketers, homeschoolers, doctors, lawyers, in any country, and on and on. You name it, you can blog it. And we want to read it! We've created over one hundred categories just for you to find the blogs you've been looking for." - Blog guidebook.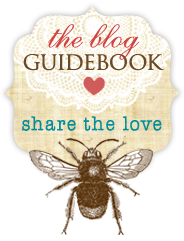 Ni hittar:
Blog How-Tos
Classes
Shop
Resourses
Giveaways .. och mycket mer!
Check it out!